Michael Houlihan receives Honorary Doctorate from UL
The University of Limerick yesterday honoured individuals who have made unique and powerful contributions to the University and those who have made outstanding contributions and achievements in society. Amongst those was Michael Houlihan who was conferred with an Honorary Doctorate of Laws. The son of solicitors, Ignatius and Oona – Oona being one of the first female lawyers in in Ireland – he is the founder of Michael Houlihan & Partners LLP, which merged with Sellors LLP in 2022 to form MHP Sellors LLP, the largest dual-county law firm in the mid-west.
Whether as the first Clare man to serve as president of the Law Society of Ireland or as the driving force in transforming his small family law firm into a nationally recognised practice with more than 50 staff, Michael has always pushed standards. Through his actions, he has been a powerful flag-bearer for this part of the island and helped redefine the perception of what was possible for a solicitor from outside Dublin.
However, Michael Houlihan's contribution to this country extends far beyond his own distinguished career. He has always known that the collective is greater than the individual, and he has championed community and civic causes for decades.  A native of Ennis, but a true son of the mid-west of Ireland, Michael is described as a man of unwavering integrity by those who know him and has left an indelible mark on the region.
Helen Rackard and Sinéad Nunan, MHP Sellors LLP Consultants, were delighted to be there to mark the occasion with Michael.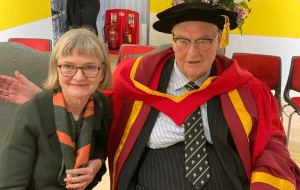 Share this story, choose your platform